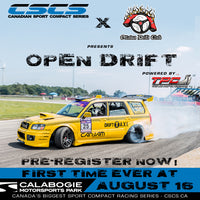 ODC X CSCS - August 16th
This is still an Open Drift day (No competition) in partnership with CSCS.
NO SKIDPAD TRACK ONLY
Follow the link Bellow for registration:
https://cscs.ca/open-drift-registration/
For $125. Track time (depending on entries) will approximately be 2.5-3 hrs from 11am-6pm (20-30 min. sessions – similar to our last event last year).
Here are some additional notes:
• The sound limit has been increased for this event to 104 dB (highest permitted level – special permit) and there will be No Sound Testing in the paddock as well
• Camping offered Saturday night for 10$/person
• Trophies for: best style, best smoke, best tandem, Best angle will be handed out.